Hiii there, people! How are you doing? I'm fine, just thought I'd update things around here since it's been a little while since I wrote anything... X3
I feel kinda bad that I didn't write a journal to wish you guys a Happy New Year and all, but things got rushed and in the end I didn't have time D: I also gotta say that the weather was horribly warm in the end of the year and beginning of this one, so I felt so BLEH and unmotivated to do ANYTHING... And I'm SO sorry for not faving/commenting on your deviations/journals and replying, guys! I feel AWFUL for being so innactive and letting all those things stack up (I seriously have like 300+ deviations here to see OMG), but I was sooooo lazy lately, you have no idea... I hate myself
for losing yooou
for not doing all those things here, what I SHOULD be doing. It's horrible >_< But you guys know that I'm not happy if I don't write the long and detailed comments you all deserve, and if I'm not inspired to write I don't feel good simply going and faving your drawings without saying anything. I'm trying to get back on doing it though, I got a lot of catching up to do... xD
Also, I'm currently working on the next request on my list, it'll probably be done this week already

I feel bad for taking so long to even GET to it, but I had a lot of my own drawings to finish by the end of last year, so... Yeah. Luckily it's easy and quick, so I'll hopefully get it done soon, then I gotta start on SOMEONE'S birthday gift :3
(HAHA I'M STARTING SO LATE OH GOD NO)
I hope to make it in time...
On another note, as RIDICULOUSLY LATE as this is, I wanted to show you guys the presents I got for Christmas! x33 Yeah, I should have done it sooner, but the reason is up there... I was too lazy and out of time to write this before the year ended, not to mention I didn't have downloaded the photos into my computer yet. Anyways, from my uncle and grandaunt I got some money, which's great and ALWAYS WELCOMED <3 Then my mother gave me a really cute light blue shirt that I wore on New Year's eve (we have the custom to always wear new clothing in the passing of the year here in Brazil), my grandma gave me a nice simple red T-shirt, and now for my favorite presents of the bunch...
Mom's second gift to me was the last book of the
Percy Jackson and the Olympians
series, the only one I was missing! <33 I already had the first one that I got for my birthday a couple of years ago (I even said it in a Journal here, if I'm not wrong), then she slowly bought the others last year, the fourth (one before this) in my birthday again, and now IT'S COMPLETE! I just LOVE this book series, it's amazing, and without a doubt my second favorite one EVER, after Harry Potter >w< BTW, I got two presents from my mother because she said that my sister's present was more expensive than mine, so she got two. XDD
And then...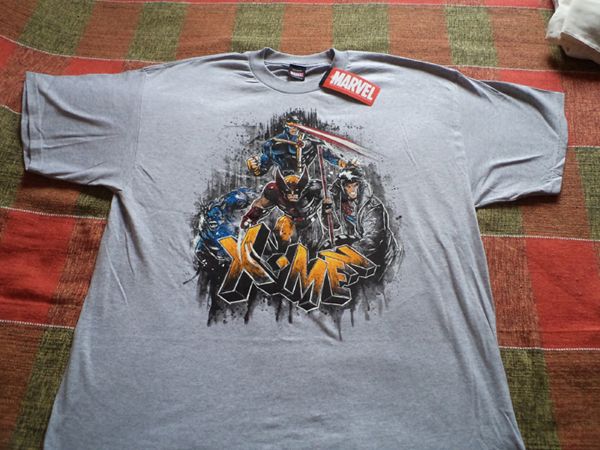 TAM TAM TAAAM, my other uncle gave me a FREAKING AWESOME
X-MEN T-SHIRT
!! *___* I TOTALLY didn't expect that! I mean, he has a comic book store and he's full of merchandise, and 2012 was THE Avengers year and my sister got a Loki shirt, but I really wasn't expecting to get an incredible super hero t-shirt too... And better yet, of X-Men! I've always LOVED them, they're some of my favorite heroes of all time

And he also gave me this book:
Nowadays vampire stuff is a little sketchy, but from what I've seen this book is about Dracula and what would've happened if he had won, it looks pretty interesting

I've yet to read it, but I think there are some other characters cameos there, like Jekyll and Hyde and Jack the Ripper, among others! It sounds cool.
But yeah, I think that was it. I think I have no other news to tell

Or maybe I do, but this is long enough already, I might say it another time, it's mostly basic stuff Lol Except that...
I REALLY WANT DEAD SPACE.
I NEED IT.
Okay, I guess I'm done now. Bye bye people! >w<
.: Isa :.